MAPLE-MISO ROASTED TROUT WITH GREENS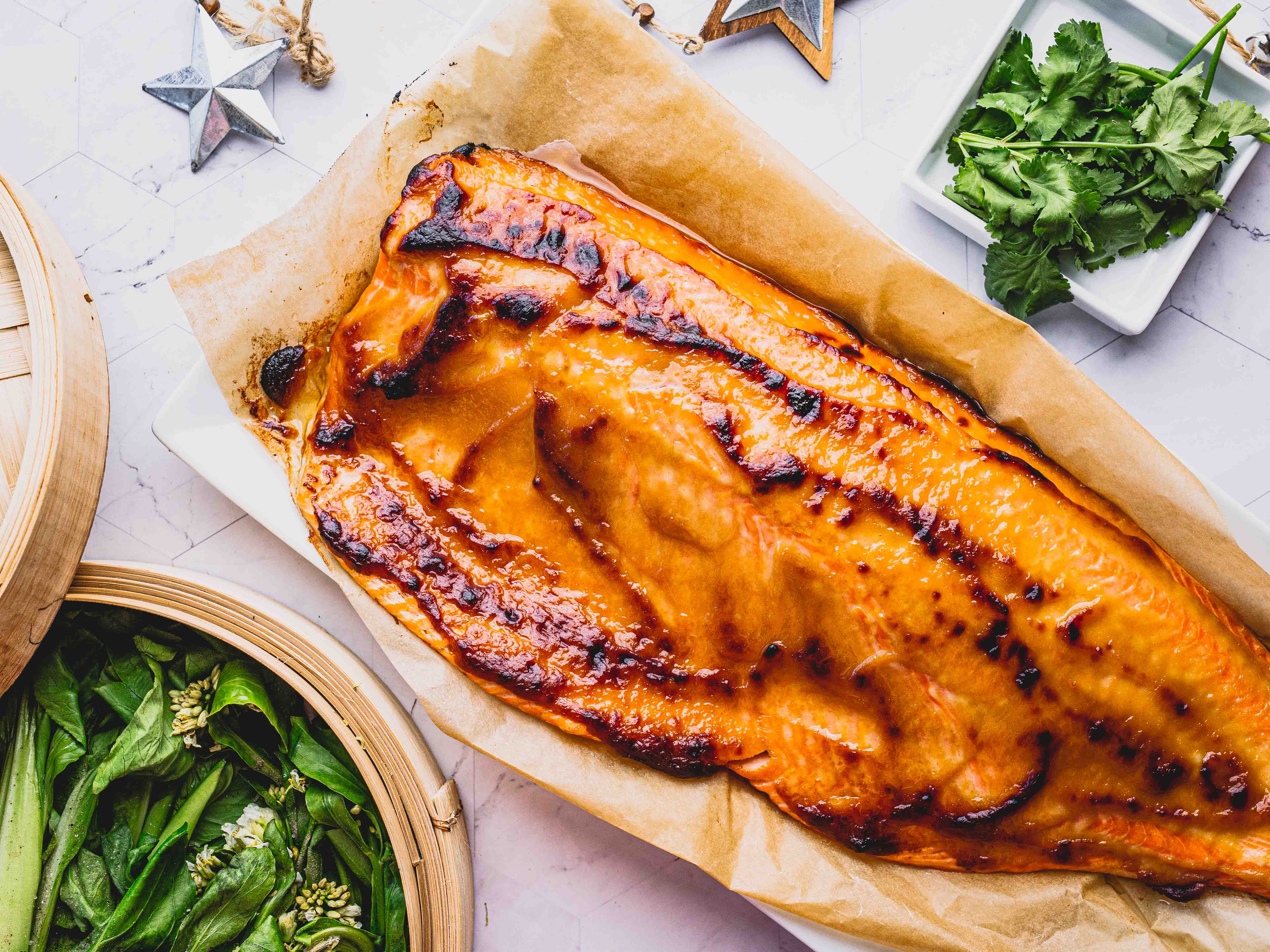 Entertaining this festive season doesn't get easier and more delicious than this whole side of trout* with a fine dining inspired maple-miso glaze. It gives the fish a delicious salty-sweet flavour and seals in all the moisture while baking. Serve with steamed Asian greens on the side. Leftovers are also great the next day in a salad or with eggs on toast.
Serves: 4-8* | Prep time: 10 minutes | Cook time: 20 minutes
INGREDIENTS

Trout
1 whole side of ocean trout (approx 1kg) | Pre-order from Macquarie Seafood
¼ cup white (shiro) miso paste | Miracle Supermarket
¼ cup maple syrup
3 tbsp olive oil
Greens
1-2 bunches bok choy | Panetta Mercato
1-2 bunches choy sum | Panetta Mercato
½ tbsp soy sauce | Miracle Supermarket
2 tbsp oyster sauce | Miracle Supermarket
1 small clove garlic, crushed | Panetta Mercato
Handful fresh coriander leaves, optional | Panetta Mercato
METHOD
Preheat oven to 200°C.
Remove trout from fridge and place, skin-side down, on a large lipped baking tray lined with baking paper. Allow to come to room temperature (about 10 minutes).
Mix together the miso paste, maple syrup and oil. Pour over the fish and spread evenly with the back of a spoon to cover.
Bake for 20 minutes. Remove from oven and rest for 5 minutes. Then carefully transfer to a serving platter with the paper or gently slide the fish off the paper.
Meanwhile, trim choy sum and quarter bok choy – rinse under cold running water. Place in a steamer and steam for 10 minutes. Mix together soy sauce, oyster sauce and crushed garlic in a large bowl, add steamed vegetables and toss through the dressing.
Arrange vegetables around the fish, serve with coriander.
*NOTES: Pre-order your trout from Macquarie Seafood and have it delivered fresh from the seafood markets to the store on the day. If you're serving this as the main course, it should serve 4-6 people, or 6-8 as an entrée or a part of a larger spread.