Meet our Kids Entertainment Reporter Golden!
Introducing Macquarie Centre's very first Kids Entertainment Reporter!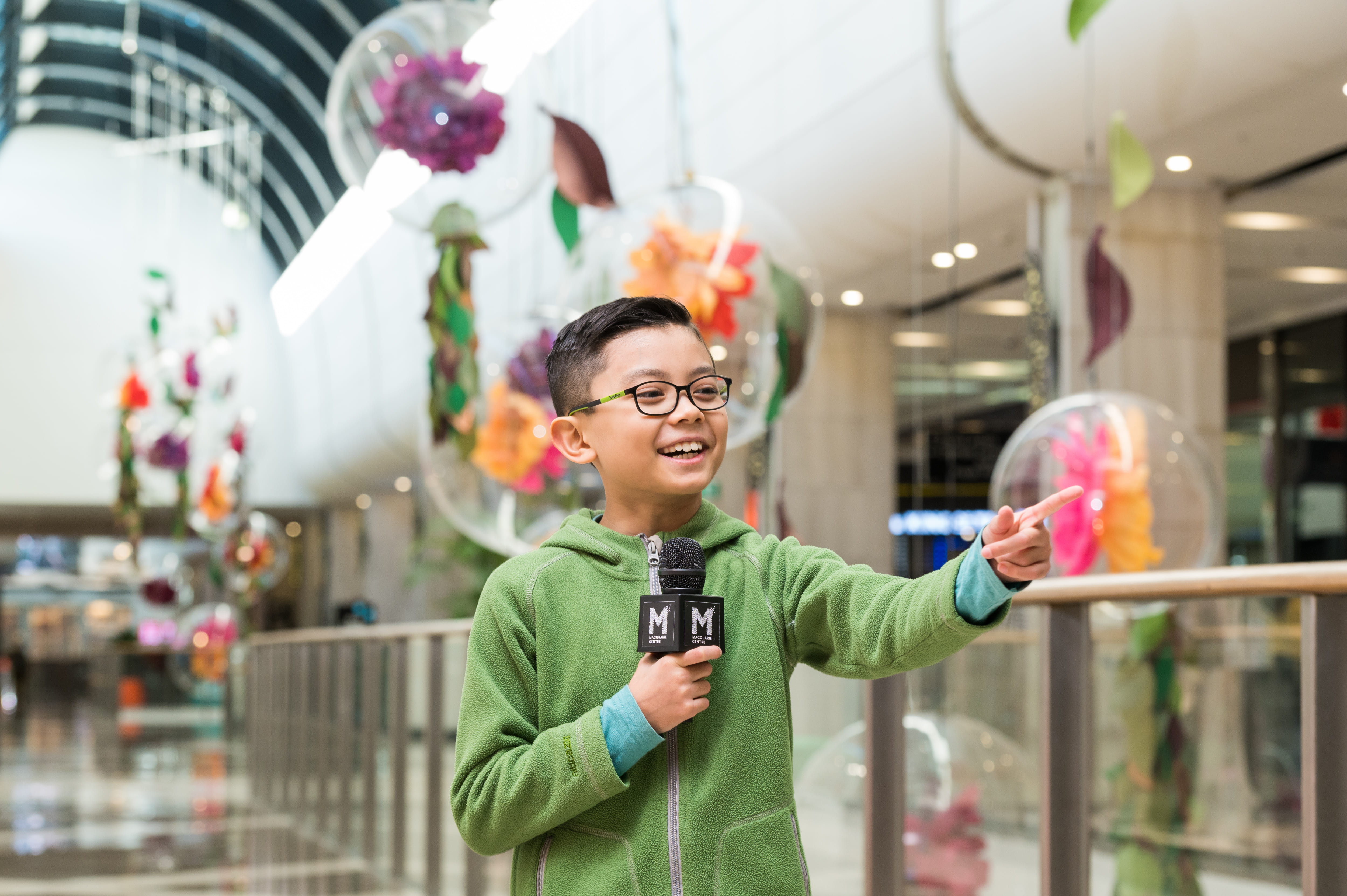 Meet Golden! 👋
Back in April 2023, we received over 650 auditions from far and wide across the Sydney Metro Area as we searched for Macquarie Centre's very first Kids Entertainment Reporter. After weeks of anticipation, we proudly announced our winner, 9-year-old Golden who is a long-serving fan of the centre, avid Timezone enthusiast and more recently, Spelling Bee Champion!
Golden has now been tasked with the difficult job of testing out all the best activities available at Macquarie Centre to share with you all each school holidays. So, we sat down with him and fired away some questions to give you a chance to get to know him better. Here's what he had to say! 
What is your role at Macquarie Centre?
I am the official Kids Entertainment Reporter for Macquarie Centre! My role involves reporting on the latest & greatest where I get to dive into all the fun activities and share the coolest experiences and places to eat with all of you.

How did you become part of the Macquarie Centre team?
I auditioned at the Kids Entertainment Reporter studio set back in April and the rest is history! The team were wowed with my enthusiasm for all things Macquarie Centre. If you stay tuned to the Macquarie Centre's social media and website, you might catch updates on next year's auditions, and who knows, I might even share some helpful tips throughout the year!

What is your favourite store at Macquarie Centre?
Without a doubt it would be Timezone! I love collecting as many points as possible and redeeming my prize at the prize shop. They have a massive range to choose from including plush toys, lollies and even some electronics like a Nintendo Switch!

Outside the world of reporting on all things fun, what are your hobbies & interests?
When I'm not exploring Macquarie Centre, I'm busy testing my Dad on his knowledge of The Periodic Table and whether or not he can spell the longest word in the dictionary, which by the way is Pneumonoultramicroscopicsilicovolcanoconiosis - take that spelling bee!  I'm also a cadet at my local golf club, so I love being out on the golf field, practicing my swing and participating in kid comps on the weekend!
 
What does your ideal day at Macquarie Centre look like?
My day would start at none other at Timezone, where I would test my skills on the skee-ball machine and try to collect as many points as possible to win the biggest plush toy there is.
Next up, EB Games! Where all of my favourite Roblox merchandise lives. I love picking up plushies to add to my collection. From Pokémon and Squishmallows, to even Harry Potter & Minecraft - there's a plushie for everyone!
When the time comes 'round to grab a bite, I would head straight for the sushi train at Mitzu. This would be followed by a delicious scoop of Raspberry Gelato from C9 Chocolate & Gelato – I'm drooling just thinking about it now!
Lastly, I would stop by the new LEGO Certified Store and check out their 'Pick and Build' wall to collect some bricks to build with Dad. If you're familiar with the area, don't miss the mosaic wall as you enter the store and try to guess which famous local attraction it portrays!


To follow along on Golden's journey, stay connected with us on Instagram and Facebook, or sign up here to be the first to hear about our upcoming events, offers and more!