Meet Josh from Freak Virtual Reality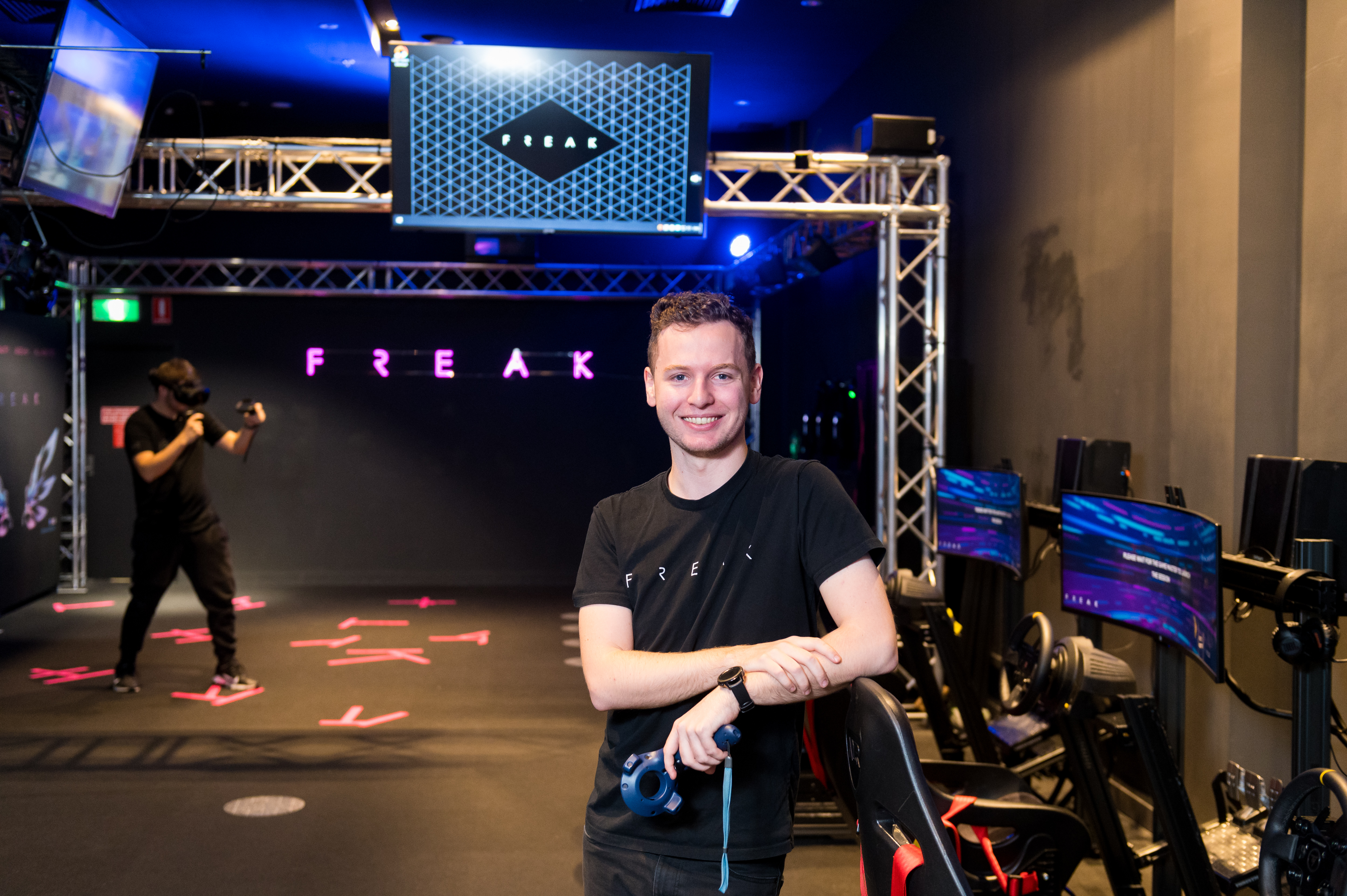 Meet Josh, Venue Manager of Freak Virtual Reality at Macquarie Centre 🥽
With his extensive knowledge and passion for all things virtual reality (VR), buckle up as we chat to him about the ins and outs of the world of VR, it's endless possibilities and how you can dive into the fun right here at Macquarie Centre.
Can you tell us a bit about Freak Virtual Reality?
FREAK VR first opened in Macquarie Centre in late November 2021 and quickly evolved into a new individual and family entertainment that provides an easy way to get familiar with the latest upcoming virtual technology. Our VR experiences are suitable for anyone aged 8+ which makes it perfect for kids, adults, corporate groups, school holidays, birthdays and more!
Come check us out on Level 4, near Fitness First and dive into a world of fun with over 60 leading VR games in our Virtual Arcade, SEVEN additional Escape Rooms on top of our original two, FOUR brand new experiences in our Free Roam Arena, an additional VR Laser Tag experience and a sleek, fresh new setup for our FREAK Drives.
What advice would you give to someone who is new to VR and considering Freak Virtual Reality? How can they make the most of their experience?
For someone who has never experienced VR before I would HIGHLY recommend popping in-store to come see what it's all about! Not only would one of our FREAKtastic staff members assist you in explaining how VR works and what to expect when you put the headset on, we can also give you a FREE 5-minute demo to give you a taste of what is to come!

As for choosing which experience to try first, I would definitely recommend our VR Arcade to start with. Our VR Arcade will ease you into the VR experience, while also giving you the most freedom to try new things. The VR Arcade runs in 30 minute and 1-hour sessions and boasts over 60 leading VR games, giving you the freedom to choose what you want to play, whenever you want!
Are there any special offers or promotions currently running?
Yes! In fact, there are loads of offers and promotions running every week! I've summarized them below but feel free to head to our store listing or website to find out more:
Monday to Thursday ALL DAY: Student Rates from only $35 a session for students with a valid student ID.
Tuesdays: Triple Threat deal, which offers a Free Roam Arena session of our Phenomena games for 30 minutes, priced at $60 for a group of up to 4.
Thursdays: After 5pm, we offer all of our Basic Escape Rooms at a discounted rate.
Lastly, if you play any of our Free Roam or Escape Room experiences and return within 30 days of playing, you are eligible for any Basic Free Roam or Escape Room experience at our discounted return rate.
But wait, the school holidays are just around the corner! While the above offers and promotions are not available during the school holidays, we have the following deals to keep the fun flowing for everyone:
For the older kids (12+) and adults we have our Apocalypse Survival Combo, offering our 2 thrilling zombie experiences in Arizona Sunshine and After The Fall. If you're looking for some actions and scares this is perfect for you!
For the younger audience (8+) we have our Boogie and Blast Combo, offering our haunting ghost hunting experience Ghost Patrol and our mini game mania Phenomena experience!
Does Freak VR engage in any community initiatives?
Currently FREAK has a few different community-based initiatives and offerings in place to help give back to the community and get everybody involved! We have our All-Abilities campaign which offers a 50% discount to people living with disabilities and their carers! We strive to ensure that all of our experiences are available to everybody, regardless of physical or mental attributes! Additionally, we offer special prices for School-Care Vacation groups! There's no better way to entertain the kids than with some epic VR games!

Lastly, for the schools out there, we offer VR Education Packages that bring VR into the learning experience! We run packages surrounding certain syllabus points in areas such as IT, PDHPE, History and Science!